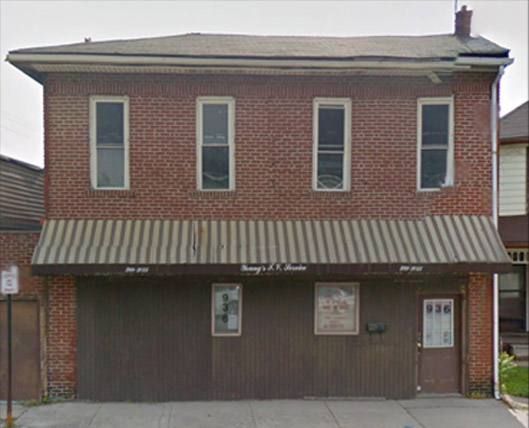 A boarded up old building has now sprouted windows
​ and a beautiful awning.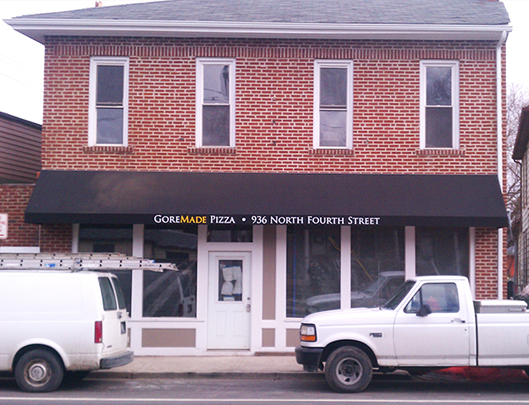 The space has shifted into a mode of construction.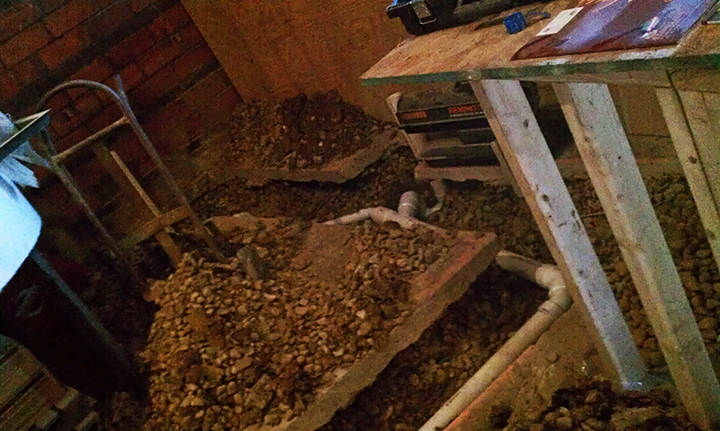 Things are happening!
​There's still lots to be done, but we are slowly making some headway on the grand process that is turning an old TV repair shop into a bustling little wood fired pizza shop. The pace is definitely a bit slower than my excited self imagined it a year ago, but this has allowed me to really sink into some details that will really add a lot of character to our humble pizza operation. Soon, things will snowball into a whirlwind, and I'm sure I'll be missing all this free time and wishing I had some more!

First off, I should mention the score! My father-in-law was somewhat of a Renaissance man, and in so, a collector of amazing things was a byproduct of his life. He encouraged me to poke through his "junk" for anything to throw into the pizza project. American pickers would have shit their pants! Mind boggling amounts of interesting things in a disheveled mess of awesome!

We ended up digging around and finding an enormous amount of beautiful wood, stacked to air drying for over 20 years on the second floor of his "shop". There was pretty much an entire walnut tree just hanging out in the corner, along with a ton of other types of wood. I don't know board feet, but it is an amazing amount of awesome wood! He told me to take as much as I wanted.

So now we have wood milled by my father in law, for the bar, benches, shelves and decorations. I'm also teaching myself how to make things. I've started with cheese/charcuterie boards out of some beautifully patterned live edge black walnut. This is my first attempt. It's a bread cutting board I made for my wife, built to fit our homemade pan de mie bread that our family so much enjoys!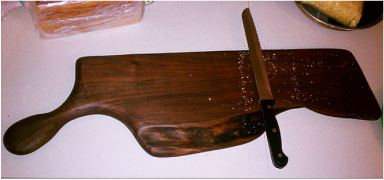 I also just took a class on whole hog butchery through
The Commissary
last week. If you haven't checked the place out, I suggest you do! The class taught us how to break down a half hog, and we were sent home with all the spoils of the class, including a bone saw, boning knife and a whole lotta pork! My oldest son was pretty excited to touch a pig's brain, let me tell you!
​I didn't get many pictures, but here's what we started off the class with (a warning for the squeamish, though it may just be too late by this point in the paragraph to avert the eyes).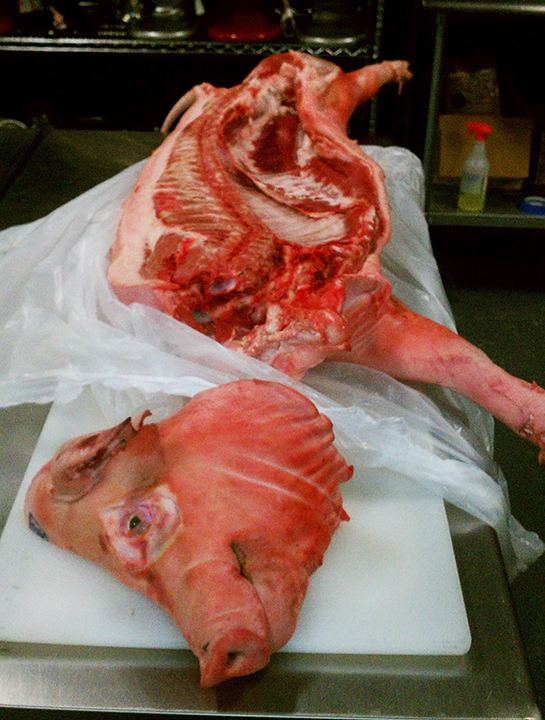 ---
​February 5th, 2015, we connected with a random craigslister about a vacant space at 936 north 4th street. That person turned out to be a long time friend. After around 388 days, we still have yet to open our doors, but the same sense of serendipity has been with us throughout the entire project, Illuminating the way in the darkness. My gut has proven quite a trusted friend, and we've met so many wonderful people along the way. ​We've still got a long way to go, but I am learning to see the joy in it all. I see this lengthy build-out as a gift. A gift I wanna rip open and cook pizza with! Alas, with all good things comes patience, and I will spend my days making this project ever stronger.

Thanks for sticking with us through it all! ​It will be my pleasure to serve every one of you amazing pizza people in this amazing space. More as the story unfolds!

xoxo,
​NickG